TOOTH LOSS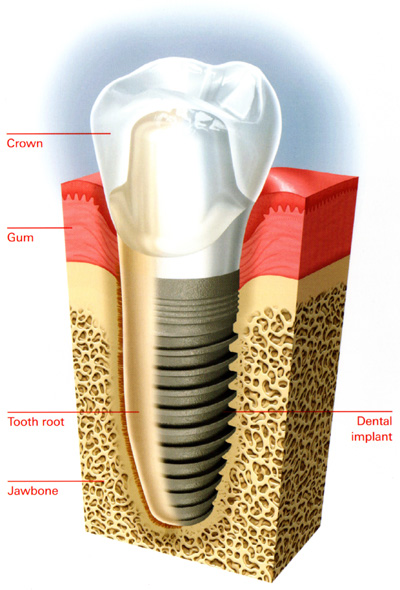 Millions of people lack self confidence and have various complications because of missing teeth. Tooth loss can cause many serious complications including bone loss, shifting or losing surrounding teeth and even admonishing the ability to chew. These problems can occur immediately or over time.
Dental implants are the best way to replace teeth because they look, feel and function like natural teeth. They do not negatively affect the neighboring teeth because unlike a bridge, they do not connect to other teeth. Dental implants are a long-term solution. Ninety-five percent of users still have the original implants 20 years after placement.
Implants are sometimes used to stabilize dentures allowing a more carefree lifestyle.
DENTURES
Tired of loose dentures? Dental implants could be the answer. Implants can be used to stabilize dentures and help hold them in place so you can enjoy your food and not have to worry about your dentures falling out.
PROCEDURES
Implants can be placed in areas with little bone thanks to our new 3D ConeBeam digital imaging system. It allows us to pre-plan exactly where to insert the implant. We can also perform immediate restorations in some case. This means that we can put a tooth on your implant the same day.
We only use the world leader in implant research, Nobel Biocare, to ensure you receive our promise of quality care.